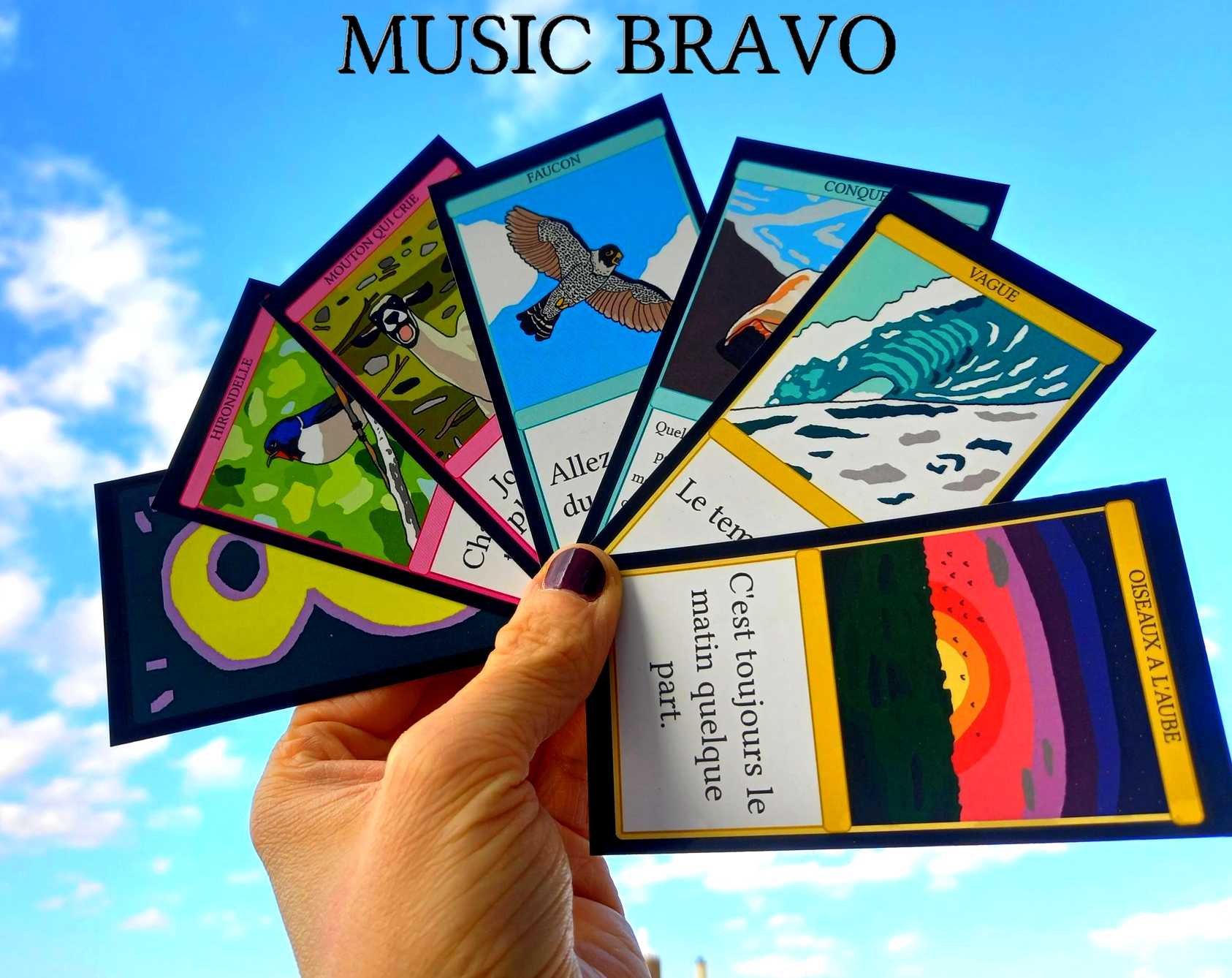 MUSIC BRAVO, a card game
A downloadable musical card game
A card game to do Vroom Vroom the music !

MUSIC BRAVO is a card game to practice collectively improvised and experimental music, for beginner and confirmed musicians with improvisations. The game is heavily inspired by Oblique Strategies by Brian Eno and the conceptual works of Fluxus artists and their friends.
The game contains 75 cards (without the rules) divided in 3 groups : Action cards (individual in red, collective in blue), Omen cards (in yellow) and number cards. The principle is simple. You need to gather players around a table with music instruments (you know how to play or not), paper and pencils, a timer. You need to divide the card game in three piles with one pile with individual and collective Action cards, one pile with Omen cards and one pile with number cards.

Here is how a round goes.
Steps of the game :
1-Draw : The first step consist in each of the players drawing an action card. An Omen card is drawn and three number cards (the first is for the centh, the second for the tenth and the last for the units to define the time of the performance in seconds.).
2-Write : If cards asking to draw or write something are drawn, a minute is given to do the writings and drawings.
3-Debate : A minute and a half is given to debate of the coming performance.
4-Performance : Do the performance in the time defined by the Number cards.
When the timer goes to zero, the performance is over and a new round can be done.

Action cards :
The individual Action cards are cards only the player drawing it need to execute.
The collective Action cards are cards everyone around the table needs to execute and take in consideration.
In case of contradictory order between individual and collective cards, the individual Action card drawn by someone takes over the collective Action cards drawn by the other players.

Omen cards :
The Omen cards are cards which give a philosophical touch to the performance to come. They have no vocation to give an order but can be interpreted this way.
Those are the basic rules of the game but you can put other rules to give more chaos to your performances :
-No debate
-Keep your individual Action cards hidden
-No timer
-Use the Number cards to define a rythm
-...

All the drawings and design of the cards have been created by Rrrrrose Azerty. The game and all the graphical assets are under Creative Commons 0 license. The game and the graphical assets are also available in french via this page. For all your reclamations and questions about the game, you can leave a comment on this Itch page or contact the author on her website loyaltyfreakmusic.com.
Download
Click download now to get access to the following files:
MUSIC BRAVO, a card game.rar
16 MB
Graphical Assets.zip
42 MB